Sharkboy's Birthday was back in May, and I never got around to blogging it. I'm about to give away one of the leftover aliens, so I guess I'd better actually post this:
Sharkboy decided on an outerspace theme for his party. I got decorations from PartyCity.com and set about figuring out the rest. I went back and forth between baking a cake in a bowl to make a half-a-moon cake idea like this:
Then, the day before the party, I was in a kitchen gadget store and a cupcake plan practically jumped into my hands all by itself. I got this: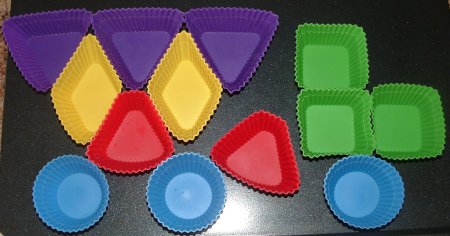 Review of Wilton Puzzle Cake silicone bake molds:
A. Most importantly: It made a rocket cake. Mission Accomplished.
B: Hubby got the job of pouring cake batter into them. He did not spray them first. Cupcakes did not want to release. at all.
C: Wilton should think about how people have parties and that cakes have to be transported. That rocket was LONG once it was put together. I had to use the lid of a rubbermaid tote as the "tray."
I did not like the themed party favors available from the various party stores online. They are all just cheap junk that will wind up in the landfill the week after the party. So I set about making aliens. Then, at the party, the kids "fished" for aliens. For the babies I made texture cubes and their big siblings got to fish for those.
This Eyeball was my favorite
Texture Cubes
I got my inspiration for these aliens from an
Etsy seller
who does it much better.
Here's a view of the fishing hole.
For the actual party set-up, it was supposed to be outdoors, in a pavilion, in a park. Then the weather was supposed to be nasty, so we rented the local museum's theater room. On the large projection screen we showed a Youtube video of outer space stuff.
One more element was the "Pin-the-nosecone-on-the-spaceship" game.